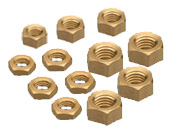 Brass Nuts : Brass Panel Nuts Brass Lock Nuts Brass Cap nuts Brass Union Nuts Copper Stainless Panel Nuts Jam Nuts Lock Nuts Locking Nuts Brass Hex Nuts Brass Square Nuts Metric Nuts Brass Machined Nuts Brass Wing Nuts Brass Hex Nuts Brass Conduit Nuts
Material : Brass to BS 2874 / 2872 or IS 319

Finish : Brass natural, Electro-Tinned, Nickel etc.

Threads : ISO Metric, Various types and sizes of Threading like B.S.W., B.S.F., B.S.B., B.S.P. & B.S.P.T as per British Standard Whitworth Form and N.C. & U.N.C., N.F. & U.N.F., N.P.T & N.P.S., N.S., N.E.F. etc as per American National Form Threads are available. All threads shall be as per International GO & NO-Go Standards.
Special : We shall be pleased to develop Non-Standard Brass Nuts fasteners as per Specific requirements.