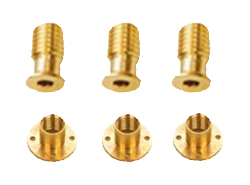 Material : Brass Sheet half hard as per IS 410 or 63/37 half hard Brass Sheet.
Platting : Natural, Nickel Plated, Tin Plated or any coating as per customer specification.
Any Kind of Brass Anchor can be developed as per customers specifications
Installation : I Drill a hole as per the external diameter of Brass Anchor Hammer the Anchor into
the hole Take a required bolt for screwing Fix it with suitable spanner
Application : Used for all light and medium duty fixing in Building Industry. For e.g. Electrical,
Sanitary Installation work, Air-conditioning, Mounting of suspended ceilings,
Heating systems etc.