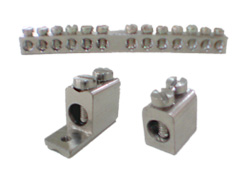 Brass earth neutral bars neutral links Earthing blocks terminal blocks available in all sizes as per customer specification. Brass neutral bars terminals terminal blocks and links up to 1 Meter also available. 4 way and 8 way tin plated Nickel plated earth neutral bars for panel boards available.
Material : Brass - BS 2872 CZ 112.
Copper - BS 2872 C 101, 102.

Sizes : As per specifications

Finish : Natural, Electro-Tin, Chrome or Nickel plated.